THINK TWICE BEFORE WALKING ON ICE
Dog Safety: Winter Ice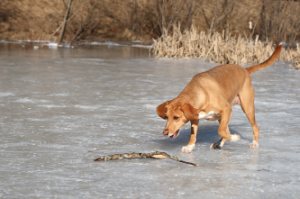 PREVENTION: 
Before going out on the ice with your dog
CHECK MUNICIPAL ICE SAFETY
Check local authorities for ice safety checks. These usually can be found on your municipality's webpage or by calling their switchboard.
KNOW BASICS OF ICE SAFETY
Learn HOW TO CHECK for safe ice:
Measure

THICKNESS

of the ice (4" may be safe for walking, but thicker ice is always better)
Do a

VISUAL CHECK

of the ice conditions: water on surface, slushy areas, cracks, etc.
SNOW

makes ice less safe.
COLOUR OF ICE

can indicate safe ice:

"Thick and blue, tried and true; Thin and crispy, way too risky."
There are many CONDITIONS THAT AFFECT ice safety:
Depth

and

size

of body of water
Currents, tides and other

moving water

(stay away)
Fluctuations in

water levels
Logs, rocks and docks absorbing

heat

from the

sun
Shock waves

from

vehicles

traveling on the ice
AVOID POORLY LIT AREAS
Skating at night with your dog can be fun, but only in areas that are well lit. Even when you are very familiar with the area, things could have changed, (cracks, holes, soft spots) that you are unable to see at night. 
AVOID RISK
Use common sense to keep you and your dog safe around frozen waterways
Keep your

DOG ON LEASH
KEEP

your dogs

AWAY

from frozen water

Ice over moving water should

ALWAYS

be

AVOIDED
This type of ice may

never

be

solidly frozen
Currents, tides, waves and other types of

moving water

may

prevent

a solid

freeze
If your

dog

falls through this type of ice, they can be

swept under the ice

by the current, leaving no opportunity for rescue.
AVOID UNFAMILIAR AREAS
Unfamiliar with an area, then it's time to keep your dog on leash. Danger, such as thin ice, may be just around the corner or over the hill.
KNOW WHAT TO DO
Know ahead of time what to do in case of an emergency on frozen waterways
TRAINING
In order for your dog to be safely off leash, they should have solid "Recall" (come) and "Leave It" commands.
WHAT TO DO IF YOUR DOG FALLS THROUGH ICE
DON'T PANIC
If your dog falls through ice:
STAY CALM.

Keep your head and follow these steps to get your dog home safely.
Your first instinct will be to run and help your dog, however, you need to

THINK CLEARLY

about the situation.
CALL 911
If your pet is unable to free itself after 2 minutes, immediately

CALL THE FIRE DEPARTMENT (911)

and let them know what has happened.
Most Fire Departments have the

MANPOWER

that is

TRAINED

and have the right

EQUIPMENT

(dry suits, ropes, ladders, boats, etc.) for icy water extractions including helping our pets.
In some areas, your emergency responders may be

VOLUNTEERS

and not able to go in after your dog. This may be something you want to

CHECK

out in your area

BEFORE HEADING OUT

onto the ice.
Once the

FIRE DEPARTMENT ARRIVES, STAY BACK

and let them

DO THEIR JOB.

You can ask if they want you to do anything. Keep calling to your dog and encouraging it.
DO NOT GO IN AFTER YOUR DOG: Seriously, don't!
Do not run to your dog or try to save them yourself. Instead, follow these steps to ensure you both get home safely.
If you think it can't happen to you, you are wrong.

PEOPLE DIE TRYING TO SAVE THEIR DOGS

who have fallen through the ice and

OFTEN

it is the

DOG

that

SURVIVES

by getting itself out of trouble. This doesn't mean you do nothing, it means you

GET HELP

from

PROFESSIONALS.
DO NOT RUN TO YOUR DOG

, as you may be in danger of falling through the thin ice. An animal's natural instinct will be to try and climb out of the water, if you go to your pet, you may find

YOURSELF ACCIDENTALLY PULLED INTO

the

WATER.
WORK FROM SHORE: While waiting for 911
It's hard to watch your dog struggling. Do not risk your own life, work hard from the shore on encouraging your dog to keep trying to get out.
STAY BACK

off the ice.

If

YOU

are standing

ON ICE, MOVE AWAY

from the area, as the ice you are on may also be weak.

LIE FLAT

on the ice and spread your weight out and more towards solid ground, keeping your eyes on your pet.

CALL

your

PET'S NAME.

Once on the safe ground call your pet and encourage him/her to come to you.

DOGS

are

INCREDIBLE SWIMMERS,

have

CLAWS

and can often

FREE THEMSELVES

from dangerous situations.

CALL FOR HELP.

If there are people around,

CALL OUT.

People are always

WILLING TO HELP.

It is amazing how many people carry cell phones and they may be able to call the fire department for you.
ENCOURAGE YOUR DOG
While

WAITING

for emergency professionals to arrive be

PROACTIVE, CALL OUT

to your dog,

OFFER TREAT, TOYS,

and

ENCOURAGEMENT

.
EXAMPLE:

Call out your dog's favourite

words like "Dinner", "Treats", "Let's go for a Drive".
CALL OUT

your dog's

FAVOURITE THINGS

are… call them out. Anything that may encourage your dog to keep trying to get out of the icy water.
EXAMPLE:

Squeak or play with a toy, ball or stick. More often than not, the dog will be able to help itself.
PRETEND TO LEAVE
If all else fails, you could try pretending to leave which may

MAKE

your

DOG WORK EVEN HARDER

in order to stay with you.
EXAMPLE:

Years ago our dog and another dog got out on the ice. Our dog came back, but the bigger dog fell through the ice. We called and encouraged this dog, a stranger to us, as much as we could. We had to go get help (no cellphones in those days)… as we were leaving, the dog finally got itself out of the water and came to join us. It didn't want to be left behind. It was a very lucky dog. PHEW!!!
ONCE YOUR DOG IS SAFELY OUT OF THE WATER: 
Dry off, warm up your dog, and talk to your vet
DRY OFF and WRAP UP
Dry your dog off as best you can and wrap them up.
WRAP

your dog in a towel,

BLANKET

, jacket,

ESPECIALLY THEIR EXTREMITIES

which may be prone to

FROSTBITE

(Tips of ears, paws, scrotum, tail, etc.)
BRING INSIDE
Get them indoors, out of the elements…
Inside a warm

CAR

, turn the heater on high

ANY OUTBUILDING, BARN, GARAGE,

or

SHED

to help block the wind and cold

Inside your

CAMP

or

COTTAGE

Get them in a home, even better their own

HOME
WRAP UP EXTREMITIES
Wrap them in blankets at home, especially their extremities (Tips of ears, paws, scrotum, tail, etc.)
WARM BLANKETS/TOWELS
Warm the blankets in the dryer, radiator or in front of a fire
HEATING PADS/HOT WATER BOTTLES
Use heating pads, warm water bottles to help bring up their temperature
WRAP

these in a

TOWEL

so as

NOT

to

BURN

your dog

PLACE

on their

ABDOMEN
WARM FLUIDS
Give your dog warm fluids (ie. small amounts often of warm water or warm watered down chicken broth)
Give your dog

SMALLER AMOUNTS

of fluid

MORE OFTEN

You

DON'T

want them to

GULP

down too much water as it could make them

SICK.

Your dog probably spent a lot of energy trying to get out of the water and while trying to get warm. Consider giving them electrolytes like watered down chicken broth. You can learn more about here:

DIY ELECTROLYTES

for your

DOG
SIGNS OF HYPERTHERMIA IN A DOG
KNOW

the

SIGNS

of hyperthermia in a dog by checking out this

PETMED website

 

CALL

your

VET

and

ASK

directly about the signs of hyperthermia
TAKE YOUR DOG TO THE VET
Once your pet is safe, take them to the

VETERINARIAN

for a

CHECK UP.

Let your vet know exactly what has happened.
RESOURCES
HALIFAX SEARCH AND RESCUE: Ice Safety
https://halifaxsar.ca/ice-safety
RED CROSS ICE SAFETY
http://www.redcross.ca/training-and-certification/swimming-and-water-safety-tips-and-resources/swimming–boating-and-water-safety-tips/ice-safety
ICE SAFETY CHECKS: Halifax
https://apps.halifax.ca/icethickness
DOGSTER
http://www.dogster.com/the-scoop/a-warning-to-pups-and-people-keep-your-paws-off-the-ice
WIKIHOW
http://www.wikihow.com/Know-When-Ice-is-Safe
PETMED: Hyperthermia
http://www.petmd.com/dog/emergency/common-emergencies/e_dg_hypothermia