FLYERS are best used handing out going door to door when searching for a lost dog. They are also appropriate for posting in busy pedestrian traffic areas such as on mailboxes, lamp posts near bus stops, etc., and on bulletin boards and windows of local businesses. If a business says it's against their policy to post flyers, as them to take one anyway and if possible to at least post it in their staff room. Thank you.
Please feel free to print off copies of the flyer to hand out: Click on this jpg flyer to download and then print copies to share.
This is a JPG version: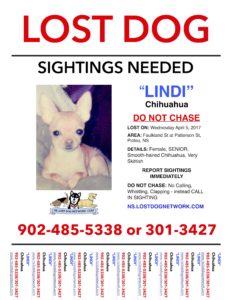 PRO TIP: Remember when posting your flyers outside, keep them safe from rain by storing them in an upside down sheet protector. That way people have access to the pull-off tabs (that contain your contact info), and the rain doesn't get down inside.